About HHBG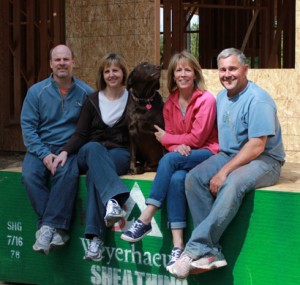 Hunter Homes Building Group is a small, local, residential home-builder, with over 30 years of experience in the construction industry. There are four owners: Jerry & Anne Knoben and Tim & Patti Yokes, (as seen in photo). Tim and Anne are the two active owners, working the day-to-day operations of the business. Being small allows us to provide hands-on personalized attention to our buyers' needs and concerns every step of the way.

As a life-long resident of Puyallup, Tim has worked in many facets of home building, from framing and superintending, to managing and producing products in the supply chain of the construction industry. He knows and understands quality construction, because he has learned it hands on, and prides himself with producing a house that he would want to call home!

Anne keeps the administrative side of the business going, and does the design work to select our colors and finishes. She also coordinates directly with our pre-sale buyers to assure that their specific choices are built into the home of their dreams!

Part of what creates excellence in home building is having strong partnerships. We have partnered with quality subcontractors that Tim has had ongoing relationships with throughout his career. This allows us to confidently stand behind our product, knowing that all of our subcontractors also maintain our high standard of excellence. We enjoy what we do and believe that our 'difference' truly is in the details!